It is a white wine with around 13 degrees of alcohol, monovarietal, where godello variety expresses their characteristics modelled by Atlantic climate with Continental influences and by the slaty soil where the vines set. It´s a young wine, aromatic, of which always taste another glass.
Tasting note
Green tinge colour with nacreous glints. It possesses an excellent and powerful bouquet. It is deep, elegant and reminiscent of tree fruit.
On the palate it is light, soft and pleasant. The sharp and sweet touch of this wine makes it very personal and balanced, with a marked structure.

---
Wine pairing
This wine can be enjoyed with seafood, fish, lighter meats, mushrooms and mild cheeses. Served around 6-8º degrees.
---
Bottle
Available in 75cl bottle.
---
Viña Godeval Old Vineyards
It is a white wine, approximately 13 degrees alcohol, monovarietal that evolves well in the bottle and improves with the passage of time. It comes from the godello grapes selected from the oldest vineyards of the winery and with a vinification process in the presence of their own lees for about 5 months in stainless steel tanks. It is a full wine, with body, that surprises from the first moment and remains in the memory.
Tasting note
It has greenish yellow colour with golden tones, medium intensity aroma, clean, enveloping with hints of ripe fruit (apple, melon and pineapple) and fine herbs of the field (fennel and mint). The palate is especially pleasant, with a balance between the sweet sensations that bring body and volume, and the acid flavours that give freshness, in addition to some mineral notes of great complexity provided by the slate soil from which it comes; offering a set of long and pleasant sensations.
---
Wine pairing
This wine should be served at 8-10 º Centigrade. Harmonizes with seafood, fish, poultry, hunting, mushrooms and creamy cheeses.
---
Bottle
Available in 75 cl bottle.
---
Godeval winery presents this limited edition of 6,600 bottles, resulting from a selection of grapes from our emblematic vineyard "Pancho". It is one of the oldest vineyards, marked by its special slate soil and microclimate within the Atlantic continental climate which affects the Valdeorras region (Ourense). Godeval Revival manifests all the aromatic and gustatory components of the Godello varietal, once the grapes have undergone a cryo-maceration process. During the past 3 years, we have defined the parameters of its collaboration with a research project in cooperation with the organisation EVEGA (Enological and Viticultural Galician Station).
Our vineyard
Our vineyard, known as "Pancho" is situated on the right side of the valley, crossed by Sil River, with rows of vineyards orientated to East-West and with a southern exposure. This vineyard is situated on a sunny slope, with a special microclimate that provides a good ripening and healthy development of the grapes. The soil and subsoil consists of 100% slate.
---
Tasting note
The colour: dressed with yellow and many green hints, is friendly and fresh to the eye. The pronounced aromatic intensity gives it a great personality.
On the nose: in addition to the aromatic intensity and, great personality, the fruity flavours, including citrus, lime, pink grapefruit and notes between herbaceous, citrus and ginger, give this wine great character. In the background appear white fruit, water pear, apple and exotic hints of stone fruit like peaches. Hints of fennel, bay leaf and mint also appear.
On the palate: certainly speaks its intensity, persistence and balanced acidity. It is silky and enveloping with a great aromatic finish and a slight bitterness. Over the years it will provoke a wide range of sensations.
---
Bottle
Available in 75cl bottle.
---
The characteristics of 2017 harvest, ripe grapes and their excellent health, have determined the time for doing a godello wine fermented in a new French oak barrel of 500 liters, which was subsequently bred in its fine lees for 4 months.
The wooden barrel should not be considered only as a container, the most important is its contribution to the wine with positive characteristics.
The chosen wood is a French oak, the Quercus Petraea, of fine grade, high in polyphenols and with a medium toast.
The result has been a powerful and well-bodied wine, which will stand very well in time and will give many satisfactions.
Tasting note
The colour shows a crystalline, brilliant, with a vivid yellow-green appearance.
On the nose, you can appreciate primary aromas of pip fruit, ripe apple, pear, acerola fruit. Also, find aromatic field herbs, with hints of fennel, thyme and oregano. Very fine and elegant aroma.
You can find a vibrant and fresh on the palate, emphasized by the character of godello variety, with a balsamic aftertaste, wide, tasty and glyceric. Full bodied and amplitude. Finally enjoy with a bitterness that collaborates for building a great elegance as in other great wines.
The barrel did a great job without taking leadership.
---
Wine pairing
It is a very gastronomic wine that invites you to drink accompanied by simple dishes or elaborated ones.
It is recommended to serve 9-12ºC
---
Bottle
Available in 75cl bottle.
Cases of two bottles
---
Traditional spirit
It is monovarietal liquor, elaborated from godello grape bagasse and with our own distillation system. Awarded with a lot of awards, is liquor that presents colourless and crystalline to the sight.
---
Coffee liqueur
Coffee liqueur is obtained from godello variety liquor. It is marinated with high quality Arabica coffee and vanilla. It is a pleasant liqueur and great aroma.
---
Herbal Liqueur
Herbal liqueur is elaborated from the liquor that we elaborated with godello grape bagasse and then made a maceration process with different kinds of herbs. Time of maceration gives it a pleasant and tasty palate.
---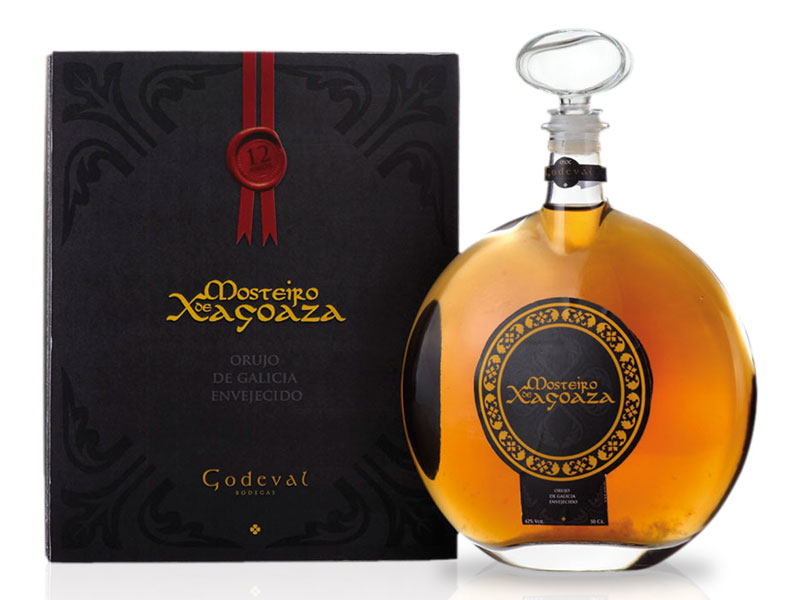 Aged spirit in oak barrel
This aged spirit is obtained from the liquor that we elaborated with our godello grape bagasseand then, aged and matured in oak barrels for 12 years at the winery facilities inXagoaza Monastery